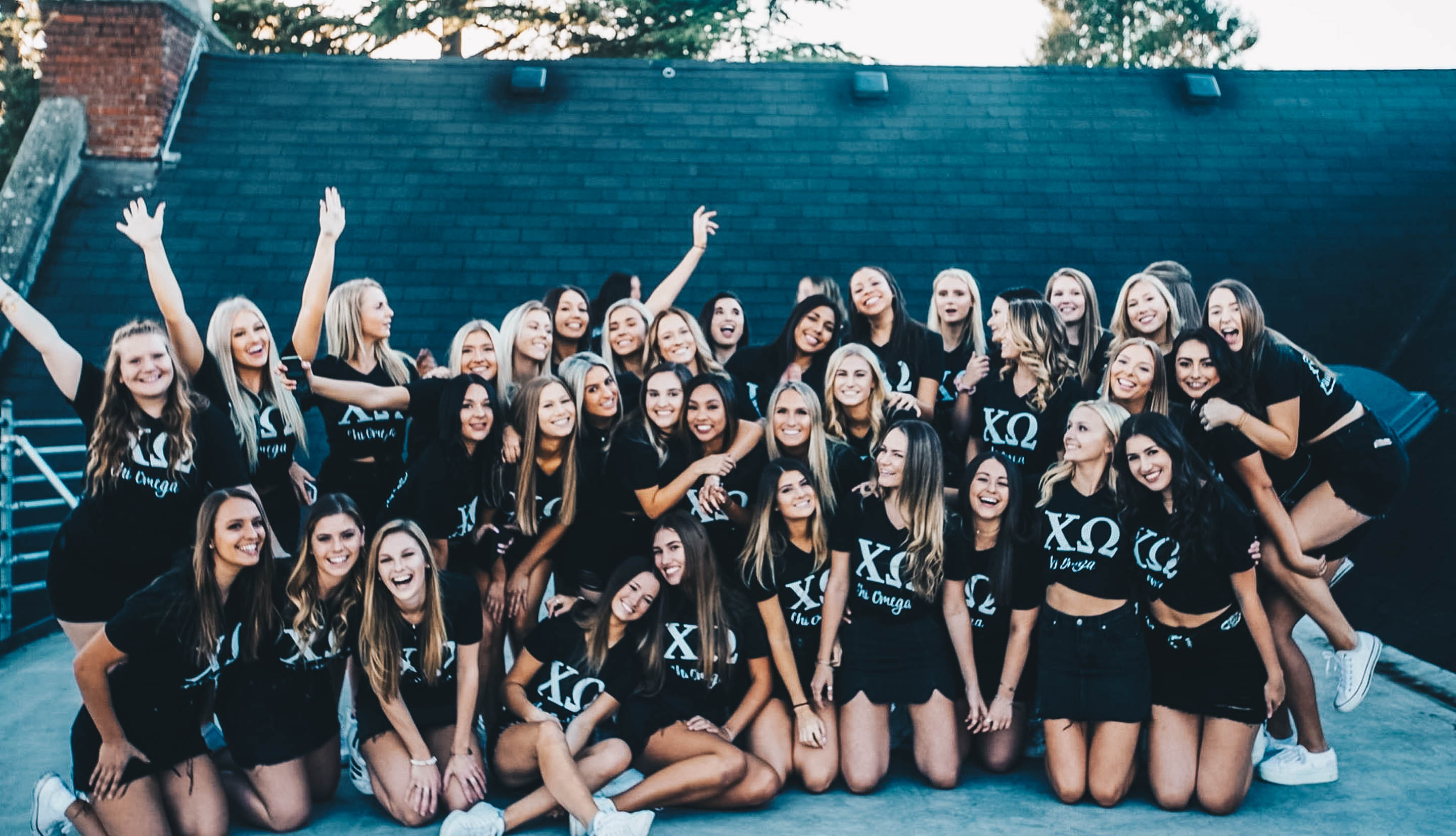 Financial & Time Commitment
2019 FALL FORMAL RECRUITMENT SCHEDULE
The 2020 Panhellenic recruitment schedule will be available at a later date. Please use the 2019 schedule below as a reference.
Recruitment Orientation: Monday, October 7, 2019
             5:30 – 7:30 pm or 7:30 – 9:30 pm
           (time will be assigned at a later date)

Conversation Days: Thursday, October 10, 2019 – Friday, October 11, 2019
                      4:00 pm – 9:30 pm

Philanthropy and Service Day: Saturday, October 12, 2019
                      9:30 am – 8:35 pm

Membership Experience Day: Sunday, October 13, 2019
                      9:30 am – 6:30 pm

Preference Night: Monday, October 14, 2019
                      3:30 pm – 10:00 pm

Bid Day: Tuesday, October 15, 2019
                      5:30 pm – 10:00 pm

The above listed time frames are guidelines that will benefit participants if they are able to attend. However, we know life happens and we have an excuse process that participants can complete following the Mandatory Recruitment Orientation on October 7, 2019, at 5:30-7:30 pm or 7:30-9:30 pm (time assigned at a later date).
For now, please use this information to guide any planning, but we may also be able to excuse participants from rounds if needed. Each participant will receive a more specific schedule at the Mandatory Recruitment Orientation. Please let us know if you have any specific timing concerns and we will address those on a case-by-case basis!
REGISTRATION
When:
Registration will open on June 1, 2020. Registration will close on October 1, 2020.

How:
The registration site will be live on June 1, 2020.

Sign up for recruitment and pay the registration fee ($50 before until September 15 at 5:00 P.M, then increases to $65 until October 1 at 10 A.M.)
What you'll need:
Basic personal information

List of extracurricular activities, honors, community service, and work experience

Legacy information, if applicable. A legacy is a woman who has an immediate relative that is a member of a sorority. Every chapter's standard of a legacy differs but usually, it includes mothers, sisters, grandmas, and sometimes great grandmothers and aunts. Please check appropriate chapter legacy information by reviewing the individual organization's policy by visiting the chapter's inter/national website.

You may upload a digital picture of yourself and a resume, although both are optional. The picture can be anything from your Facebook profile picture to a senior picture! The resume must be in PDF format.

Emergency contact information
ATTIRE
Above all, we hope that each individual going through the Fall Formal Recruitment process feels comfortable and confident in the outfit they are wearing! You should not feel the need to go out and purchase new item as you should not need anything that your don't already have. Here are some quick recommendations for each round:
Conversation Days (Thursday and Friday)
Think of picture day at school!
Casual jeans, pants, shorts, or a skirt are appropriate along with comfortable shoes such as sandals and sneakers. you will be doing a lot of walking these two days!
Philanthropy and Service Day (Saturday)
Think of a lunch with friends or a very casual interview!
Sundresses, rompers, pants/jeans with a nice top are all appropriate for this round. Make sure to wear flat shoes because a lot of walking will continue into today!
Membership Experience Day (Sunday)
Compare this day to a nice brunch with your family!
This day is similar to the previous- a nice sundress, romper, or jumpsuit are all appropriate to wear! If you choose to wear heels, we highly recommend you bring an extra pair of flip flops for the walking you'll be doing in between rounds!
Preference Night (Monday)
Dress as if you were attending a wedding or graduation!
Cocktail dresses, nice rompers, or jumpsuits are very popular. All colors and patterns are welcomes as well as we encourage you to bring a change of shoes if you decided to match heels with your outfit!
Bid Day (Tuesday)
Once you open your bid card and run home to your sisters, you will be given a t-shirt from the chapter to change into! Please wear a shirt that you can easily throw your new one over or change out of. We recommend wearing comfortable shoes such as sneakers and jeans, pants or shorts!
FINANCIAL & TIME COMMITMENT
Each chapter has a financial requirement, which is important to take into consideration before registering for Recruitment. Membership fees vary by sorority, but they typically include membership dues, house fees, and room and board if you live in the chapter house. Living in the chapter facility is a good way to decrease cost and often cheaper than many other on and off-campus housing options. Many sororities offer online payment and payment plans. You can anticipate total fees using the projections below.
Living In-House Fees (per academic term, summer not included):
High: $3,600
Average: $3,534
Low: $2,614
Living Out-of-House Fees (per academic term, summer not included):
High: $600
Average: $525
Low: $500
New Member Fees (first academic year):
High: $1,372
Average: $986
Low: $527
FREQUENTLY ASKED QUESTIONS